Welcome to Bella Faccias!
We are the only unique gourmet chocolate company in Pennsylvania that prints photos, logos, messages directly onto chocolate.
We specialize in personalized gourmet chocolate favors, Belgian truffles, cookies, gift baskets, chocolate covered strawberry/apple bouquets and platters for any event, occasion and budget.
Create your own unique chocolate design!
For 10 years Bella Faccias has been serving customers around the world with their unique products.  If you have an idea, we can help you produce it as that unique gift with minimal effort and time.  
Simply put, we pay close attention to your needs. 
Custom printed chocolates are as unique and individual as you are!
Add some panache to your special event with our creative mementos. We celebrate the special people in your lives and make the extraordinary moments more memorable!
Visit Bella Faccias boutique for more unique gifts!
Stop in and visit with us!!! Visit our new Lackawanna Avenue Boutique and see our personalized jewelry and monogrammed items. unique Scranton Toile gifts, Lolita glassware, scarves, watches and many more gifts for the discerning shopper.
Dine in our indoor bistro or enjoy the sites and sounds of Scranton at our outdoor bistro. If you are in a hurry, call ahead and your order will be waiting for you! Enjoy a wrap or croissant from our menu or select a soup and salad. Hope to see you soon!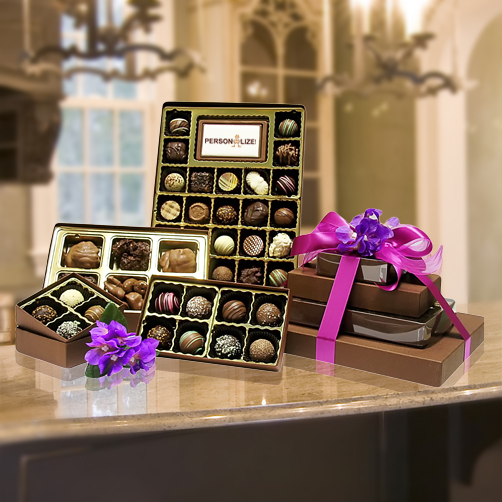 What Our Customers Have to Say
I love Bella Faccias! The chocolate is delicious and the owner is lovely and has a passion to make her customers happy! The chocolate turtles here are the best I've ever had and she has a very unique selection of jewelry that you can't get anywhere else!
Jordan G
Bella Faccias Customer
Joann went out of her way to help me find the perfect gift idea. I was totally overwhelmed when picking out a Valentine's Day gift. She is the best!
Adam V
Bella Faccias Customer
Boutique Hours
Tues – Fri: 10:30am to 6pm
Sat 11:30-3pm
Evenings / Sundays / Monday by Appointment